I recently acquired a lovely old pair of bookbinding shears that had "N. J. HILL" stamped into the metal. Just a short while after that, a finishing stove arrived at the studio which was marked with "HILL & Co LONDON". Our new tools peaked our interest, so we did some research to find out what we could about the company. Here is what we discovered:
N. J. Hill & Co. was a London-based supplier of bookbinding equipment. Established in 1850, the firm was taken over by Hampson, Bettridge & Co., in 1913.[1] The name N. J. Hill & Co. nevertheless continued to be used, and the company advertised "Bookbinder's Materials of every description"[2]. N. J. Hill & Co. is listed as a manufacturer for bookbinding presses in the 1900 Kelly's Directory, and as a dealer for bookbinder's materials in the 1916 and 1939 editions.[3] We do not know whether N. J. Hill & Co. continued manufacturing the tools themselves or whether the company distributed products made elsewhere, possibly even abroad. It was not uncommon for companies in the 19th and 20th centuries to re-brand imported goods – for example, we have a West-German Schimanek board cutter in the studio that was sold in the UK as "Harrild – London". We have not yet been able to find out why the maker's marks on the tools are inconsistent, i.e., whether the company name was abbreviated to "N. J. Hill" or "Hill & Co." at different times or whether the trading name changed throughout the company's lifespan. Hampson, Bettridge & Co. appears to have gone out of business in the early 1960s, as adverts for the company disappear between the 1960 and 1966 editions of the Sales and Wants Advertiser.[4] This is not surprising considering the decline of trade bookbinderies in the second half of the 20th century.
Even today, many bookbinding tools are repurposed or adapted from other crafts, so it is interesting that this company manufactured and/or sold specialist tools specifically for bookbinding. Below is a description of the N. J. Hill & Co. items in our studio:
Everything for the Bookbinding and Allied Trades: This 1955 catalogue contains a short history of the companies Hampson & Bettridge & Co., Ltd. and N. J. Hill & Co. Otherwise, it functions as a list of bookbinding tools, equipment and materials for sale. It also includes the prices of the goods at its time of publication, some halftone images of tools, and a catalogue of finishing and hand tools.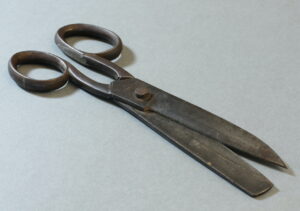 My shears are large (265mm long, with approx. 110mm cutting surface on the blades), all metal, and stamped with "N. J. HILL". The shears have probably been repaired in the past, as the rivet holding the blades together is hammered quite crudely on one end and the handles have been filed back where they meet.
Originally a gas stove, this finishing stove probably ran on town gas. Now, it has been repaired, repainted, and converted to electricity by Les Baynam to make it useable. It is a tall (890mm), floor-standing stove on 3 legs, with a 585mm diameter rail around a cast-iron surface that is decorated with fretwork-like cut-outs.  The "HILL & Co LONDON" brand is cast in relief and has been painted gold.
This backing hammer came from a London trade bindery where Arthur worked around 15 years ago. It is stamped with "HILL & Co LONDON" and "5". The No. 5 backing hammer is listed in the aforementioned catalogue and would have cost 10 shillings 3 pence in 1955. It has a slightly rounded 50mm diameter face and a short (125mm) handle, which is probably a replacement as it is not very neatly fitted. This is one of my favourite tools in the studio as it fits comfortably in the hand and is purpose-specific for rounding and backing the spines of books.
We also have a pointed, 4.7mm thick plough blade (see opening image) that has been stamped at an angle, so that parts of the writing are missing and read "N. J. HILL & […] LONDO[…]".
[1] N.J. Hill & Company, 1955, Everything for the Bookbinding and Allied Trades.
[2] T. Harrison, [1926], Bookbinding Craft and Industry.
[3] Many thanks to Alicia Chilcott at the St Bride Library for finding this information.
[4] Ibid.
---
Lena Krämer, April 2022.